Household hazardous Waste facility
The Town of Paradise Household Hazardous Waste Collection Facility is for safe and legal disposal of unusable hazardous products. Please remember to pack products carefully so they won't mix or spill and transport them in the trunk if possible. The facility accepts all types of hazardous waste except: Radioactive's • Explosives • Ammunition
Facility is currenlty closed

Nearest Facility is the Butte County HHW Facility, located at 1101 Marauder St. Chico. Open Friday's 9 a.m. to 1 p.m. and Saturday's 9 a.m. to 4 p.m.
Facility procedure
Before you leave your house please make sure all material is packaged properly, clearly labeled, and in a convenient location for removal from your vehicle.

All visitors must stay within their vehicle at all times; NRWS staff will unload all material.

For highway safety there is a limit of 5 gallons or 50 pounds of household hazardous waste per trip.

This HHW facility is for Residential use only. Limit one trip per day.

Please note that we cannot take unlabeled material, if you know what it is please write it on the container before you arrive.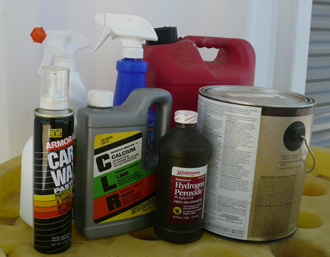 examples of household hazardous waste

HOUSEHOLD:
Polishes & cleaners
Oven cleaners
Drain openers
Lighter fluids
Unwanted medications (please dump all pills out of their containers and into a single plastic bag. For liquid meds please remove label).
Syringes
Cosmetics
Fluorescent bulbs
Rechargeable or Alkaline batteries
Mercury containing items ( thermostats, thermometer etc.)

GARDEN OR LANDSCAPE:
Fungicides
Insecticides
Herbicides
Pool chemicals


GARAGE OR WORKSHOP:
Latex & oil-based paints
Paint thinner & strippers
Wood preservatives
Grease & rust solvents
Wood & metal cleaners
Glues, cements
Photo chemicals
Antifreeze
Transmission fluids
Gasoline, fuel additives
Carburetor cleaners
Please Note: Batteries, Used Oil, Oil Filters, Antifreeze, and Electronic Waste are free to drop off Monday - Saturday 9 a.m. to 4 p.m. at NRWS Recycling Center (920 American Way), and do not need to be taken to the HHW facility.



HHw for businesses
This Facility does not take any commercial generated waste. See below for a list of HHW contacts that service commercial needs.

Butte County

Asbury Environmental Services

NRC Environmental Inc. - must call ahead for appointment

Stericycle

Chico Drain Oil

Kleen Industrial Services


Rethink and reduce toxic waste

Can the product be used by someone else? If you have an unwanted product that someone else could use - don't let it sit on the shelf! Bring it to the Household Hazardous Waste Collection Facility where they will determine if it can be put in the "ReUse Locker." Unwanted household hazardous wastes are very expensive to dispose of. A better option for both your budget and the environment is to prevent the "waste" from the start.
1) Buy the right product for the job. There is no magic bullet! What do you want the product to do?

2) Buy the least toxic alternative. Many manufacturers are responding to consumer demands for alternatives.

3) Buy only the amount you need or can use up. Will you be able to use up the "jumbo" or "bargain" size product before it expires?

4) Store the product properly so it doesn't become unusable. Keep in covered, dry, safe place.


Pesticide alternatives
Whether it is a snail outdoors or cockroaches indoors, prevention and maintenance are the key words for pest control. In addition to less toxic products, there are many effective alternatives to pesticides and the Our Water Our World fact sheets are a great way to get information about the specific pest that's bugging you. Some examples of alternatives to pesticides include:

1) eliminating attractions - drain standing water, seal all garbage containers, remove pet food dishes after use, weather strip doors, use window screens

2) non-invasive methods to remove the pest - sticky traps, fly strips, pit traps

3) pest-specific barriers - teflon tape, plant covers, copper barriers