CART Pick up, HHW & Reuse Center Schedule
Recycling and yard waste are picked up bi-weekly. Trash is picked up weekly. Please note that some routes use a Split Body Truck topick up both your recycling and trash. The truck has separate compartments to separate material. This saves fuel, reduces emissions and wear and tear on the roads.

2018 Household hazardous Waste facility, reuse center and service calendar
Recycling pickup = Blue week

Yardwaste pickup = Brown week
HHW= Household Hazardous Waste Facility Open 9 a.m. to 1 p.m.

RC= Reuse Center Open 9 a.m. to 1 p.m.

All Holidays and Service Delays are on the Calendar. See Holiday Schedule.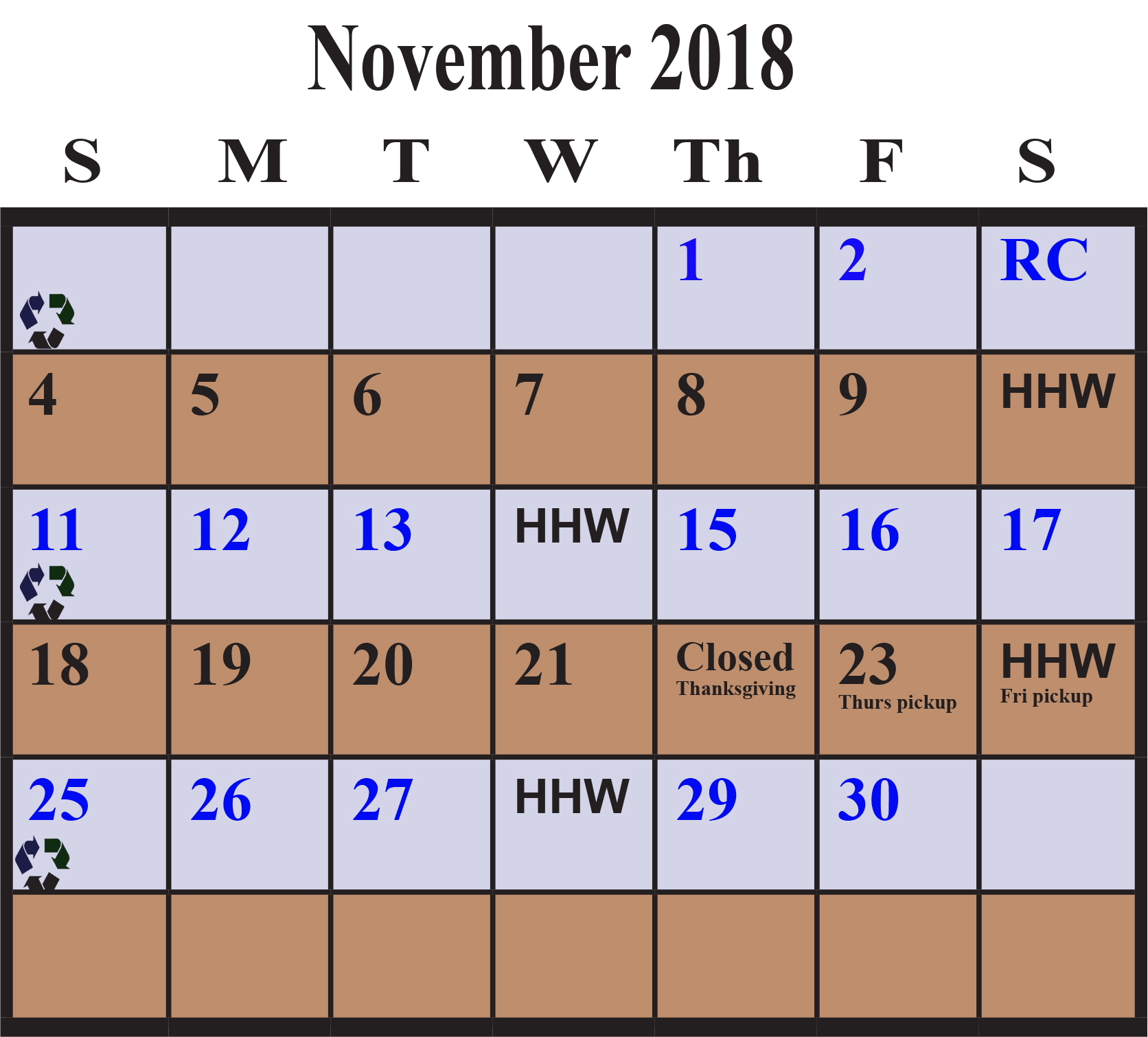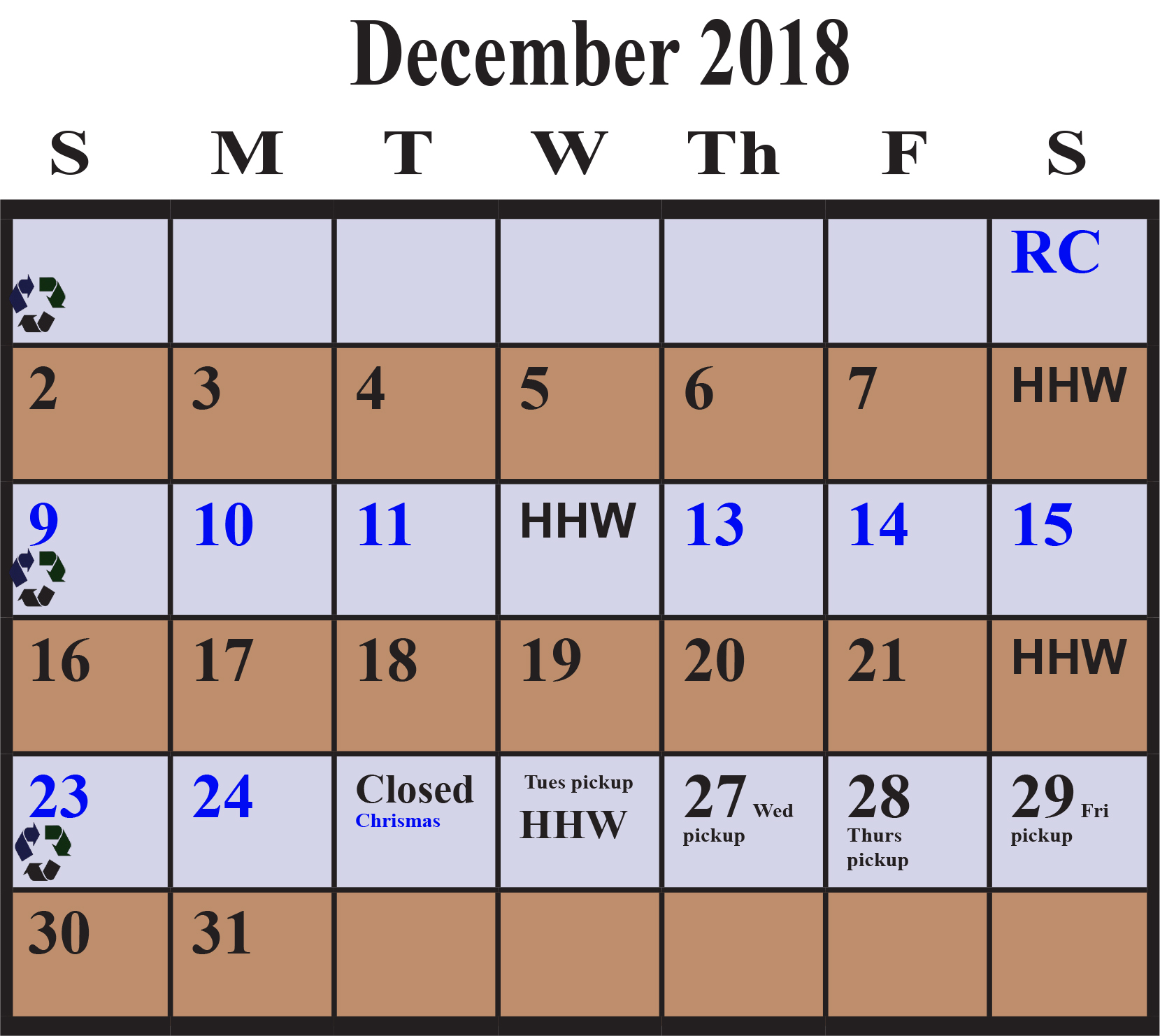 Holiday Schedule:
When your pick up day falls on or after an observed Holiday during a WEEKDAY NOT A WEEKEND (New Years Day, Thanksgiving, 4th of July or Christmas), your carts will be picked up the following day. This does not apply when holidays fall on a weekend, as there is no service during the weekend for residential customers. Service will resume to normal the next week.

July 4th, 2018:
Monday, July 2nd: Regular Collection: Office Open
Tuesday, July 3rd: Regular Collection: Office Open
Wednesday, July 4th: No Collection: Office Closed
Thursday, July 5th: Collection Delayed; Wednesday Pickup: Office Open
Friday, July 6th: Collection Delayed; Thursday Pickup: Office Open
Saturday, July 7th: Collection Delayed; Friday Pickup: Office Closed

Thanksgiving, 2018:
Monday, November 19th: Regular Collection: Office Open
Tuesday, November 20th: Regular Collection: Office Open
Wednesday, November 21st: Regular Collection: Office Open
Thursday, November 22nd: No Collection: Office Closed
Friday, November 23rd: Collection Delayed; Thursday Pickup: Office Open
Saturday, November 24th: Collection Delayed; Friday Pickup: Office Closed

Christmas, 2018:
Monday, December 24th: Regular Collection: Office Open
Tuesday, December 25th: No Collection: Office Closed
Wednesday, December 26th: Collection Delayed; Tuesday Pickup: Office Open
Thursday, December 27th: Collection Delayed; Wednesday Pickup: Office Open
Friday, December 28th: Collection Delayed; Thursday Pickup: Office Open
Saturday, December 29th: Collection Delayed; Friday Pickup: Office Closed

New Year's 2019:
Monday, December 31st: Regular Collection: Office Open
Tuesday, January 1st: No Collection: Office Closed
Wednesday, January 2nd: Collection Delayed; Tuesday Pickup: Office Open
Thursday, January 3rd: Collection Delayed; Wednesday Pickup: Office Open
Friday, January 4th: Collection Delayed; Thursday Pickup: Office Open
Saturday, January 5th: Collection Delayed; Friday Pickup: Office Closed