Vegetative Waste
Town of Paradise Vegetative Waste Yard will resume operations October 7, 2022
The hours of operation will be Friday's and Saturday's from 9am-3pm.
Location: 925 American Way, Paradise Ca 95969.


Facility procedure
All loads must be covered with no material sticking out or dragging. Pets and children are to remain in the vehicle at all times. No smoking. Cash, check or credit card. Please no garbage.


Acceptable Material
Grass, Leaves, Tree Limbs, Weeds, Clean Wood, Wood Chips, Green Plants, Garden Trimming's, Clean Pallets, Pine Needles and Stumps up to 26" diameter.
Unacceptable items
Dirt, Rocks, Concrete, Sod, Garbage, Paper, Plastic Items, Hazardous Waste, Painted or Treated Wood.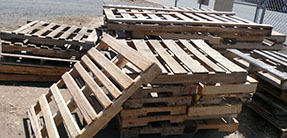 Pallets
Customers can pick up or drop off clean pallets for FREE.
Neal Road Recycling and Waste Facility


FREE RESIDENTIAL GREEN WASTE DISPOSAL
For Butte County Residents Living in the Wildland Urban Interface
More info
Material can be taken to Neal Road Landfill:
Location: 1156 Oro-Chico Hwy, Dr. Durham, CA
Open: Monday to Saturday 7:30 a.m. to 3 p.m.
Phone: (530) 345-4971
https://www.buttecounty.net/recyclebutte/nealroadrecyclingandwastefacility

NOTE: Pursuant to authority vested via the provisions of section 5.07 of Article 5 of the "franchise agreement" between the Town of Paradise and Northern Recycling & Waste Services [NRWS] the Town Manager has adopted the above-noted updated and revised gate fee schedule on December 15, 2009, and with an assigned legal effective date of January 2, 2010.