Vegetative Waste Yard
The Town of Paradise Vegetative Waste Yard is managed by NRWS. All material is ground up each week by Durham Wood and is then taken to their co-generation plant where it is burned for energy. All curbside material picked up by NRWS goes to the Earth Worm Soil Factory for composting. The large volumes of material coming into the Vegetative Waste Yard is beyond capacity for the Earth Worm Soil Factory. We hope to see all vegetative waste and food scraps composted in the future and are working on implementing a county wide composting facility to fit these needs.
Location: 925 American Way, Paradise Ca 95969.
Open: Tuesday - Saturday 9 a.m. to 4 p.m.
Fees (see below): based on yardage, all loads must be covered (additional $10 for uncovered loads).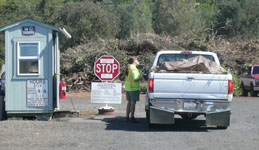 Facility procedure
All loads must be covered with no material sticking out or dragging. Pets and children are to remain in the vehicle at all times. No smoking. Cash or check only, no bills over $20 and no change accepted. Please no garbage.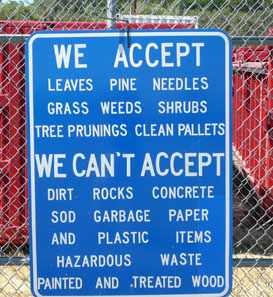 Acceptable Material
Grass, Leaves, Tree Limbs, Weeds, Clean Wood, Wood Chips, Green Plants, Garden Trimming's, Clean Pallets, Pine Needles and Stumps up to 26" diameter.
Unacceptable items
Dirt, Rocks, Concrete, Sod, Garbage, Paper, Plastic Items, Hazardous Waste, Painted or Treated Wood.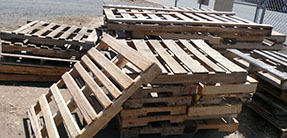 Pallets
Customers can pick up or drop off clean pallets for FREE.

Fees
| | |
| --- | --- |
| LOAD SIZE | Gate rates |
| Minimum Charge | $6.00 |
| Additional yards | $4.50 per yard |
| Contamination Penalty Fee | $ 50.00 |
| Uncovered Load Penalty Fee | $ 10.00 |
NOTE: Pursuant to authority vested via the provisions of section 5.07 of Article 5 of the "franchise agreement" between the Town of Paradise and Northern Recycling & Waste Services [NRWS] the Town Manager has adopted the above-noted updated and revised gate fee schedule on December 15, 2009, and with an assigned legal effective date of January 2, 2010.