Food Donation

Help those in need - donate food to feed the hungry.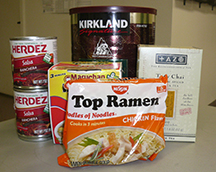 Bring non-perishable food items to any of the below listed organizations.
Suggested Items:
Canned Meat, Nuts, Canned Vegetables, Canned Juice, Rice, Peanut Butter, Baby Food, Tuna, Pasta or Noodles, Canned Fruit, Beans, Macaroni & Cheese, Cereal, Soup etc.

Please no outdated canned goods, open containers, homemade or perishable foods for drop-off locations. Many of the food kitchens accept prepared foods as well. You must call ahead to make arrangements for prepared and/or perishable food donations. The Good Samaritan Law protects you from liability.


A Simple Gesture: Is a local non-profit that gives you a "cool green bag" to put food donations it that is picked up at your house every two months. Click here to visit their website and sign up.

Butte County Gleaners: 1436 Nord Ave., Chico

Butte County Gleaners-Concow Chapter: 11300 Hwy 70, Concow

Butte County Gleaners-Gridley Chapter: 1784 Hwy 99, Gridley

Butte County Gleaners-Oroville Chapter: 4532 Pacific Heights Rd.

Butte County Gleaners-Paradise Chapter: 5420 Clark Rd Ste F, Paradise

Butte County Gleaners-Pines Chapter: 6423 Hollywood Rd., Magalia

Catholic Ladies Relief Society: 1386 Longfellow Ave. #, Chico

Esplanade House: 2505 Esplanade, Chico

Grace Lutheran Church: 585 Magnolia St., Chico

Help for People: 5533 Skyway #A, Paradise

Jesus Center: 1297 Park Ave., Chico

Magalia Community Church: 13700 Skyway Magalia, CA, 530 877-7963

Paradise Adventist Community Services: 5720 Academy Dr., Paradise

Sacred Heart Catholic Church: 1560 Hazel St., Gridley

Seventh Day Adventist Community Services (Dorcas): 1877 Hooker Oak Ave., Chico